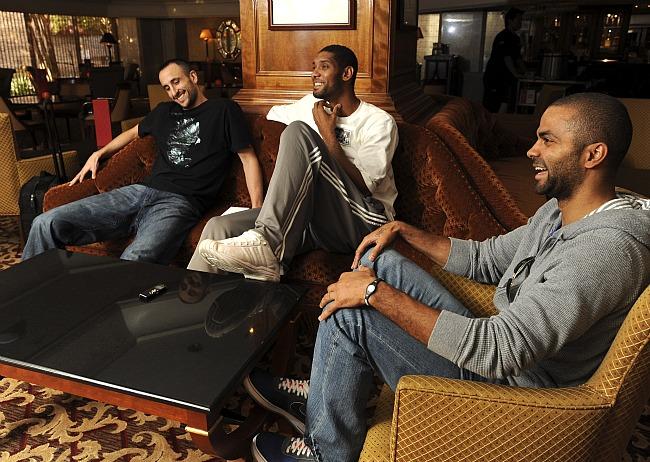 (图:The Spurs' Big Three of Manu Ginobili (left), Tim Duncan (center) and Tony Parker are about to open their ninth season together as teammates. )
The year was 2001, and some of the last vestiges of the Spurs' first NBA championship team, crowned two seasons earlier, were already beginning to fade.
Sean Elliott had retired to the broadcast booth. Avery Johnson and Mario Elie, widely regarded as the '99 squad's heart and soul, were gone. David Robinson, a future Hall of Famer, was a year away from joining them.
Worse, the Los Angeles Lakers were in the throes of a three-title mini-dynasty, thrashing the Spurs in their purple-and-gold wake and threatening to decimate the best years of Tim Duncan's prime.
Duncan, a once-in-a-lifetime talent drafted three seasons earlier to salvage a franchise from a perennial state of also-ran, was already at a career crossroads. He was 25 years old.
What happened next changed not only Duncan's life, but the direction of a franchise. In June 2001, weeks after the Lakers had swept them from the Western Conference finals, the Spurs drafted a teenage French point guard prodigy named Tony Parker with the 28th overall pick. A year later, the 57th overall pick from 1999 — a longhaired dervish from Argentina named Manu Ginobili — finally arrived in San Antonio.
The rest is Alamo City history.
Eight seasons, 16 combined All-Star appearances and three shared championships later, Duncan, Ginobili and Parker remain the NBA's most enduring Big Three. No active triplets have been together for as long, or have won as much.
Even after an offseason in which All-Stars LeBron James and Chris Bosh joined forces with fellow All-Star Dwyane Wade in Miami to form the NBA's ultimate power trio, the Spurs' Big Three remains the league's most accomplished.
And yet nothing lasts forever. The Spurs' All-Star troika enters its ninth season together facing perhaps the stiffest test to the union yet. Parker is in the last season of his contract. The final season of Duncan's deal, set to expire after the 2011-12 campaign, could be wiped out by labor unrest.
On the brink of a 2010-11 season that could represent their last ride together, Duncan (34), Ginobili (33) and Parker (28) sat down with Express-News NBA writers Jeff McDonald and Mike Monroe at the Four Seasons Hotel in Houston to talk about their past, their championships, their lasting regrets and — above all — the enduring bond of their long-term relationship, eight years in the making:
Let's start in 2001-02. Tim had already won one title, three years earlier. All of a sudden this 19-year-old French kid shows up, replacing Avery Johnson. Tim, what were your initial thoughts about Tony Parker?
(TD:邓肯 ;TP:帕克; MG:吉诺比利)
TD: "I think it's pretty well documented that I wasn't too sure about what to expect from him. With his age, with his inexperience, with his lack of knowledge of the language ... all those things went into it."
TP: "Wow ... I was talking good English. What are you talking about?"
TD: "You were talking awful English. And with all those things, I was unsure. The same thing with him (motions to Ginobili).
MG: "When I got here, you knew, 'This is the guy!'"
TD (laughing): "Yeah, 'That's my guy.'"
So the next year, 2002-03, here comes this guy from Argentina, this wild man throwing crazy passes and taking ill-advised shots. What did you make of Manu?
TD: "I think it was the same thing, on a different level with him. With French boy, it was about him being, whatever, 13 years old and asking him to start for a team that's been doing pretty good. With Crazy Boy, it was just getting used to playing with someone like that, taking some of the shots that he does. ... I think luckily we went through a process with him on the practice squad where Bruce (Bowen) just beat the crap out of him for a couple of weeks. We learned to respect him along those lines before we ever had to play with him on the floor."
How did Tim greet the two of you? Did you have to kiss his '99 championship ring in order to be accepted?
MG: "It took me three or four months to even understand what he was saying."
TD (laughing): "YOU couldn't understand ME?"
MG: "I was from overseas. I couldn't understand anybody. When I got here, I was trying to understand what he wanted, and how to make him be comfortable around me. That was a big key for me to get on the court. I knew I had to convince him that I was good, and could help him win."
TP: "For me, he didn't talk to me for the whole first year (laughing). It was kind of tough at first, because you want to earn his respect. He was our franchise. It was hard at the beginning, because he doesn't talk. I would have Pop scream at me and tell me to go talk to TD, and I didn't want to. I was scared of TD. He always looked like he was mad. As the years went by, it got better."
So, Tim just let you guys figure out Gregg Popovich on your own?
TD: "Oh, absolutely."
TP: "I think Manu had more problems with Pop than anybody. He was subbing Manu all the time. I was like, 'Why did you draft that guy? You don't know how he plays?' We used to go inside all the time to TD, like every single play. So when Manu arrives, and starts taking all these crazy shots, I was just laughing."
MG: "My problems were with Pop, trying to figure him out and him trying to understand who I was and what I did. I knew he saw something in me, but ..."
TP: "I think Pop just gave up after a while. He knew there would be more good stuff than bad stuff."
Tim, when did the light go on for you with Manu?
TD: "I don't know that it's gone on yet. It flickers every once in a while."
MG: "There wasn't a day? One day?"
TD: "It's an ongoing process."
The first season you three are together, in 2002-03, you win a championship, beating New Jersey in six games. At that point, were you thinking that could be the start of a pretty good run?
MG: "My first year, I was too new. I didn't know how hard it was. I had come from winning in Europe, and winning championships with the (Argentine) national team. I came here and we won, and I said, 'Oh. Good.' I really started learning how hard it was with the next two."
David Robinson retired after that 2003 championship. Even so, Tim, did you figure you still had the team to keep it going with Tony and Manu?
TD: "No. I was thinking if we can get better players than this, it would be easier next time. ... It's fun to think about it, winning in '99, and '03, and '05 and '07. ... I remember in '05 (against Detroit), any one of us could have won the MVP that year. We all played pretty well that series. It's fun to think about what level everyone was playing on to win those championships."
Of the three championships you three won together, is there one that seemed especially sweet?
MG: "The one I enjoyed most was in '05, that went to Game 7. There's so much pressure, and that made it feel so good afterwards. I remember going to the SBC Center, at the time, for Game 6 ready to celebrate — and then we lose. Game 7, we were down nine in the third quarter, and a lot of things start going through your mind. Once that game was over, the feeling was deeper. The day after, that week ... I remember I had my home full, with my parents, my brothers. They were so scared before Game 7. They thought we were not going to win it."
TP: "The first one is special, because it's the first one, but everything goes so fast. You don't really realize what you've accomplished. Then I agree with Manu, Game 7 (in '05) was special. And then the third one was special for me, too, because of the trophy (Parker was named MVP of the Finals sweep of Cleveland). I think all three were special in their own way."
Do you ever look back at some of the near misses — particularly with Dallas in 2006 and the Lakers in 2004 — and think it could have been four or five championships?
TP: "The one I'm still mad about was '06 (the Spurs lost to Dallas in Game 7 of the conference semifinals in overtime). We had 63 wins, the most we've had together, and I really thought we had the best team. Especially seeing what Dallas did (vs. Miami in the NBA Finals) — up 2-0 and they lose.
"I really thought that was our year to win, more than '07. In '07, we won but during the year Dallas and Phoenix were playing better than us. I really thought we were going to win in '06. That was the toughest loss I took since I've been with the Spurs, more than the Derek Fisher shot."
MG: "Every season for the first six seasons, we could have won it. I thought we had a chance every year, a real chance. We won three, so that's not bad either, but it could have been more."
In the time you've been together, what's the most bizarre thing you've experienced?
MG: "Getting stuck on the plane in New Orleans (after the 2008 Western Conference) semifinals was tough. It was 48 hours before Game 1 of the conference finals (in Los Angeles). No hotels in New Orleans. We had to sleep on the plane. I'll always remember Pop walking through the aisles, covering us with blankets, concerned about getting us to sleep. Nobody could sleep."
TP: "We were up 20 in Game 1, too." (The Lakers eventually won Game 1 89-85, and the series in five games).
TD: "Ran out of gas."
Where do you think the three of you should be regarded among the great trios in NBA history?
TP: "Yeah, that's a GREAT question, because I'm watching the game last night (Miami's Big Three had played its preseason opener the night before) and it shows all the best Big Threes — Chicago, Boston, the Lakers. After that, there's a hole and it goes straight to Miami. I don't know why they never put us on that list. It's not like it's gonna bother me, because I have the rings and I'll sleep well at night. But they just don't want to put us up there."
TD: "That's how it always is. Even in the midst of us winning championships every other year, every year we started we'd be like the No. 5 team on the list to win it. That's the way it is in San Antonio, for whatever reason. We don't get that respect."
TP: "I always say if we did what we did in New York, we'd be gods right now."
TD: "It would be crazy."
TP: "I think the fact that me and Manu are international players, I don't think we get the same respect. Because we're not from America, I think that's why we're not considered up there with the Bostons, or the Lakers or Chicago."
TD: "It's a conspiracy theory."

What's the most fun the three of you have had together?
TP: "I kicked TD's ass in paintball. France vs. the USA. That was fun, but nobody cares because it's France (laughs)."
TD: "I started getting invited to dinner with Manu last year, for the first time ever. That was fun for me."
MG: "We kind of have more fun together after losses than wins."
TD (laughing): "Some of our fun can't be talked about."
MG: "There were a couple losses that really hit us bad. With good teams sometimes losses keep guys together as much as wins. We have some good stories about going through a bad stretch. We'll have a good talk and straighten things out."
TP: "That's when you know you have a good team. When you lose, you still talk and try to figure it out."
As the interview ends, the three players gather their things and prepare to go their separate ways for the night.
MG: I'm going out to dinner tonight but TD isn't invited.
TD: See? Everything's back to normal.
来源:
http://www.mysanantonio.com/sports/spurs/last_ride_for_big_three_105452763.html?c=y&page=1#storytop